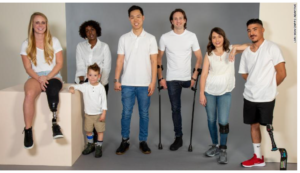 As a result of having had polio as a child, my mom always had problems with her feet. Besides the pain that she regularly had, she was severely limited in the type of shoes she could wear.. Being a woman who was always impeccably dressed, shoes were important to her. Only certain styles would stay on her feet, and even then, most were far from comfortable. Her feet were also different sizes and slightly different shapes. Needless to say, buying shoes was quite difficult. Not having much disposable income made things more difficult as it was not easy to think of purchasing two different size pairs to combine into one that might work for her. She (and I) wound up adding insoles and other assorted items to one shoe or the other to make the shoes as comfortable as possible.
Zappos is now coming to the aid of people like my mom, and those with assorted challenges, that would be greatly aided by being able to buy mixed size shoes, or perhaps those who only require one shoe. It is "part of a push…to cater to shoppers who naturally have different sized feet, as well as those with prosthetics…"
Zappos Adaptive, already sells an assortment of shoes for people with disabilities or dexterity issues. Initially, Zappos will offer the option for six brands (Nike, BILLY Footwear, Converse, PLAE, Stride Rite and New Balance ), Looks like they are starting with the "sneaker" industry. Hopefully they will branch out to all types of footwear. I'm sorry my mom is not here to perhaps enjoy shoe shopping, but I'm happy for all of those who will be able to take advantage of this welcome change.
See the full article at: