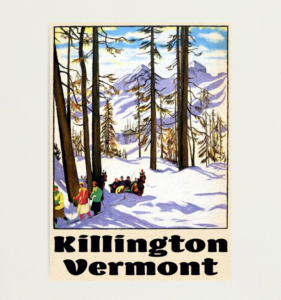 With the holidays just around the corner you may be thinking of, or have already make plans to visit Killington, Vermont, during the holidays or later this winter.
No matter when you decide to go, know that there are venues that are accessible to someone with a mobility challenge. If you have a disability and are interested in skiing, make sure to check out "Vermont Adaptive Ski and Sports / Sports for Every Body." (www.vermontadaptive.org) a fabulous program available at Killington and nearby Pico Mountain. Their programs are amazing, the people wonderful!
There are a variety of lodging options in and around the mountain. For accessibility and convenience, you cannot do better than The Killington Grand (www.killington.com).
For places to eat, Preston's (in the Grand) is easily accessible. On Killington Road, Dominc's Pizza, Sushi Yoshi, The Garlic, The Foundry and the Back Country Cafe are all accessible.
If you want to take a beautiful ride, historic Woodstock is about a 40 minute drive east on Route 4. Because Woodstock dates back to 1749, many of the shops have a step or two, to reach the front door. This is a beautiful place for a walk, with several spots for what we used to call "Kodak Moments."
About 15 minutes east of Woodstock is the town of Quechee, where you can have an amazing meal and watch the glass blowing at Simon Pearce. Worthy Kitchen is another great restaurant, a bit east of Woodstock on Route 4, on the way to Quechee.
Finally, an interesting and informative place to visit is the New England Maple Museum and Gift Shop, located in Pittsford - probably about 40 minutes from the mountain. Doesn't sound like much, but it is really worth visiting.
Vermont is a wonderful place. Killington is terrific. These are some suggestions for making your visit easier. If you visit and find other places you would like to share, please do so! We would love to know!