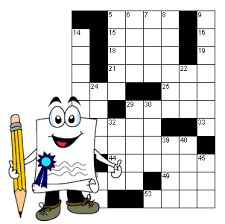 by Roberta Rosenberg
"January 29th, is National Puzzle Day, the perfect day to do a little brain exercise. Whether it's a crossword, jigsaw, or Sudoku, (to name just a few) puzzles engage our brains in more ways than one. Scientists have discovered that when we work on a jigsaw puzzle, we utilize both sides of the brain, improving memory, cognitive function and problem solving skills in the process. By utilizing puzzles, people can stimulate the brain to improve a number of skills." (National Calendar Day)
But, I think the best thing about puzzles is that they are fun! Whether working on The New York Times crossword (not me), doing a Sudoku, wordsearch, jumble, or having a jigsaw puzzle out on a table, we are usually enjoying ourselves. Puzzles are generally relaxing and engrossing, yet sometimes frustrating. Finishing one offers a sense of accomplishment. And, puzzles are inexpensive indoor activities, especially during the winter months.
The first jigsaw puzzle ( initially called "dissected maps" ) was probably made in 1767, by a mapmaker. The world's first crossword was published in December, 1913 in the "New York World" Newspaper. During the Great Depression, puzzle sales soared to over 10 million per week. During our Covid Pandemic, puzzle sales increased 300-400%, probably because puzzles are well-suited to staying at home. (information obtained from "The Jstor Daily," article by Rebecca Bodenheimer - 12/16/20)
Considering all of the benefits of puzzles and, between winter in full swing and Covid still keeping many of us indoors, I thought now would be a good time to research some of the best places to obtain puzzles, both puzzles to do online, and places to get puzzles to do "in person."
From my research I am listing some of what seem to be the best places to get the best puzzles. This list is, by no means, complete. If you have other suggestions PLEASE share them with us.
Best Places to purchase Jigsaw puzzles:
- Amazon - biggest selection
- Dawdle and Mondo - great selections
- Jiggy - most beautiful artwork
- Puzzle Masters - unique object puzzles
- ebay - rare vintage puzzles
- Walmart - kids' puzzles
Free puzzles online:
www.dictionary.com - daily crossword puzzles
www.boatloadpuzzles.com - free online crosswords
www.washingtonpost.com and www.games@washingtonpost.com
www.games@aarp.com - daily crosswords
www.thewordsearch.com - free word searches
www.razzlepuzzzles.com - you select the difficulty
www.247wordsearch.com - good selection
www.arkadium.com - a variety of free word games
https://.games.usatoday.com