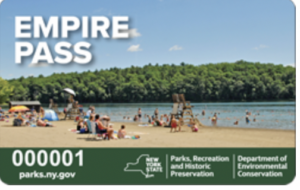 Spring is in full swing and summer is right around the corner. The weather has been good to us and hopefully, we have all had opportunities to be outdoors.
New York State has more than 250 parks, historic sites, nature centers, etc. that can be available to us at reduced rates, or in some cases, even free. There are 37 State Parks just on Long Island, and another 33 in NYC and north to Albany. From Normal Levy Park, to Jones Beach State Park, to Bethpage Golf Course, one doesn't need to travel very far to find a great place to visit.
The Empire Pass is a wonderful card that "permits unlimited vehicle access
(parking) to most facilities operated by NY State Office of Parks, Recreation Historical Preservation, and the Department of Environmental Conservation Facilities." (website)
There are one year, three year, five year and lifetime passes available. You can check the cost at "www.parks,ny.gov,"
There are also free reductions at historic sites and state operated golf courses.
If you are over the age of 62 and only intend to visit these venues Monday - Friday (not including holidays), you can use your drivers' license or non-driver ID, for free access. There are also reduced rate passes for persons with disabilities (Access Pass) and veterans (Patriot Plan). Please visit www.parks.ny.gov, for more information on obtaining your Empire Pass. You won't be sorry you did it! You can "know before you go," about many of these parks by visiting www.destinationaccessible.org.