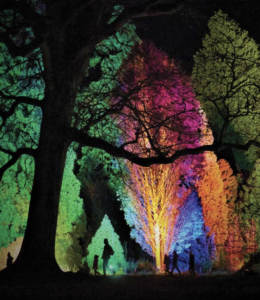 by Roberta Rosenberg - Destination Accessible US Inc.
Although I can hardly believe it , Holiday Season 2021 has arrived. It seems to me yesterday was Labor Day, not Thanksgiving ! No matter what I believe, it is here.
Many of us have returned to indoor activities and some of us are still hesitant about being inside. If you are not inclined to be indoors, know that there are places to go and ways to enjoy the holidays that offer easy accessibility.
One of the easiest ways to experience the season is with a "drive through or drive- by," of one of the holiday light shows. All you need to do is get into a vehicle and go! (Although in most cases you need to secure tickets in advance). Jones Beach has "The Magic of Lights." "A Bug's NIght," is at the Nassau County Museum of Art. The town of Riverhead has a Holiday Light Show as do the Girls Scouts, in Smith Point Park.
If you can manage it, Milleridge Village has a lovely Holiday Village, complete with shops and Santa. Although there are bricks underfoot, it is quite accessible.
Two of our favorite, easily accessible, places any time of the year are the Brooklyn Botanical and the New York Botanical Gardens. Both have holiday lights. The New York Botanical Gardens also has their wonderful holiday train show, which is indoors.
Harbor Front Park in Port Jefferson is easily accessible and always lovely. From here it is easy to walk through town, with its shops, restaurants and festive decorations.
If you don't need the holiday decorations, but want a beautiful, easily accessible outdoor place to take in the view, you can't go wrong with any of the following: Sunken Meadow State Park Boardwalk (with a view of Long Island Sound), Theodore Roosevelt Park (with a view of Oyster Bay Harbor), Heckscher Park in Huntington, or the Long Beach Boardwalk (with a view of the Atlantic Ocean).
If you are going into Manhattan, check out its newest, accessible park, Little Island, overlooking the Hudson River.
You can't go wrong with any of these things to do as part of a fun, holiday season.
Best wishes to you and your family for a Happy Holiday and New Year!
If you want the accessibility details of any of the above venues please visit, www.destinationaccessible.org, to "know before you go!" We always suggest also visiting a venue's website for very up-to-date information, such as pricing, hours open , etc.