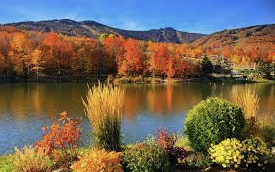 Vermont is lovely at almost any time of the year, but Autumn is special. The colors are beautiful when the "Green Mountains" become a blaze of oranges, yellows, reds and browns, before being covered in white
If you have a mobility limitation and think a trip to see the colors would be too difficult, know that there are places in Central Vermont that are accessible enough to make it worthwhile.
You can have an easily accessible stay at the Killington Grand Hotel, a full-service hotel, with an accessible pool, a view of the mountains, Preston's Restaurant, and wood-burning fireplaces in the main and lower lobbies.
Close to here, the following restaurants on Killington Road can accommodate mobility challenges - The Garlic, The Foundry, Rivershed, Dominic's Pizza, and Sushi Yoshi (For specific details check each of their pages at www.destinationaccessible.org).
Drive East on Route 4 towards Woodstock, and you will find the accessible Long Trail Brewery. If the weather cooperates you can have a beer and some food sitting outside, by the river.
Woodstock is a quaint town to visit, but know that this historic town has many venues that require at least one step up, or sometimes down, to enter.
Continuing East on Route 4 towards Quechee, you will find Worthy Kitchen, another accessible restaurant with good food.
If you travel farther east on Route 4, make a left when you see the sign for Simon Pearce. Go over the covered bridge, turn left and you will come to Simon Pearce, restaurant, glass blowing factory and store. Be sure to stop and look around, watch the glass-blowing and look at the falls, even if you don't have a reservation to dine.
Drive a bit father east you will come to Quechee Gorge, You can park in the lot, walk on the sidewalk and have a look at the Gorge below.
Everywhere you look, the colors will dazzle. You can't help but enjoy the views !
Don't miss out on this wonderful time of the year in Vermont.